COMMERCIAL SERVICES
A MARKET DRIVEN APPROACH
TO COMMERCIAL INTERIORS
SERVICES
As a local business, Ethos Interiors understands what makes north Queensland tick. Your interiors need to reflect your target market and the image you want to convey to your customers - especially important in today's visual world of social media. We will work with you to understand your clients, and also your staff to create an interior that is stunning but also practical.
We offer a variety of services to our commercial clients:
Office design from minor freshen ups through to full design and fit-out projects
Medical facilities including doctor and allied health offices, aged care homes, medical centres and more
Exterior colour schemes and finishes specification
Advice on furniture layout, colours and finishes
Joinery design for reception desks, custom office designs and feature elements
your business premise should be

PRACTICAL
A functional and easily maintainable facility is key to creating a great corporate space. We can help you consider the practical applications of different materials and any requirements for your industry or area. Your space should be beautiful, but also allow for appropriate storage, adequate working spaces, traffic flow and ease of maintenance.

BEAUTIFUL
We wouldn't be designers if we couldn't create a stunning space. So many aspects come into play designing a business interior to create a space that appeals to your market and your staff. We can share the latest trends in design and products and advise you on everything from paint colours to finishes, art and furniture.

MARKETABLE
The premise of your business is one of the most important ways to convey your marketing messages to your clientele. Whether it's laidback and youthful, or conservative and classic, the feel of your space give an instant impression of your business. In today's visual world, having an attractive space also provides an extra boost for social media engagement.
CUSTOMER TESTIMONIALS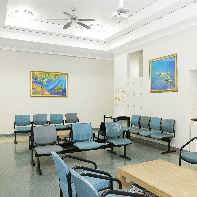 TOWNSVILLE ORTHODONTIC SPECIALISTS
"Anna has acted firstly as a consultant for my business and then for private home. Her brief at my business was to makeover the reception area. She was constrained by a lot of fixed structures , a coved vinyl floor colour and pattern and reception layout. Her makeover greatly modernised at the premises at a reasonable cost and we received positive feedback from our clients. Some felt that more had been done than actually occurred. A very cost effective exercise made possible by Anna's sense of style."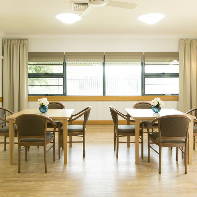 "Anna offered a stylish and practical interior design for this unit whilst also taking into consideration the residential aged care environment. In addition, Anna conducted extensive research in to new, more cost effective and eco-friendly materials. The project came in under budget and has transformed Riverview House in to a light and modern area with a high spec finish. Throughout the project, Anna was always available to assist the Home with the purchasing and selection of colours and materials, and went above and beyond the original scope to ensure the perfect look and finish."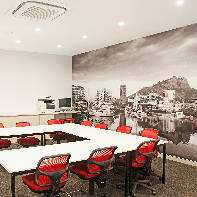 "The office needed to not only be practical in design and features but reflect the company's brand and of course my personality. Anna was respectful of what I liked, the furniture I already had and the art and personal pieces that were important to be in my office. Anna took the time to get to know me and my personality which she then reflected within the office. Anna worked within both my timeframes and budget - it ended up being a quick process without costing the earth. I am thrilled with the outcome and love the way the office looks professional yet reflects my personality."
BOOK AN INITIAL CONSULTATION